DWT successfully switches to powerful Alterra PIM data hub

Initial Situation
DWT with headquarters in the German town of Bottrop is a specialist in assembly technology and industrial tools for pipe processing and nitrogen production. Major customers such as BMW, Deutsche Bahn or Thyssenkrupp rely on the products and services of DWT.

In the past, DWT used two systems to reliably manage their pool of data relating to their products: The Product Information Management (PIM) system Mediando for storing product data, images and documents and a second system, eProCat, for classifying products and generating BMEcat catalogs.
What made a migration necessary?
The company saw the replacement of the systems as an opportunity to carry out a complete, "cleaned-up" restart in terms of product data management and to simplify their processes. For this purpose, they were looking for a PIM system that offers a technical basis that not only meets current but also future operational requirements. Another important aspect was that it should be possible to provide data directly in future-proof media formats commonly used on the Internet. In addition, a modern PIM system must provide web services such as a REST-API to allow other applications to access data in JSON or XML formats in real time.
The new PIM system: Alterra
DWT looked around the market, compiled a shortlist of possible suppliers and chose Alterra PIM after extensive product presentations.
The functionality and configurability of the system was – justifiably so! – found to be extremely flexible and user-friendly. In addition, DWT recognized a great streamlining potential for working with documents and images in Digital Asset Management (DAM). The work in the DAM system is, amongst other things, simplified by a versioning function and automatic conversion into various file formats that works with image data, documents and video data.
Future-proof, flexible data storage
The migration from the legacy system to Alterra PIM was made using in multi-stage export and import procedures. All data kept in Mediando and eProCat were successfully merged and transferred. The image data and documents were carefully transferred to Alterra DAM and linked to the corresponding products.
DWT use the following functions in Alterra (amongst others):
Product creation with hierarchies
Inheritance of product properties
File creation and linking to products
Product updates
Archiving products
eCl@ss classification, multiple versions in parallel
Classification and attribution according to own definitions
Assignment of accessories and spare parts
Assignment of cross-sellers
Price differentiation for major customers
Keyword definition
It's worth it: intensive use of PIM system data
On the back of the new Alterra PIM system, DWT are thinking about the future output channels for product data: The aim is to make intensive and multiple use of the comprehensive product information managed in the PIM system. Data transfer in the B2B area, external product communication and internal product presentation are requirements for which the appropriate data format and a convincing form of presentation is required.
DWT decided to opt for the following:
Output of various BMEcats with customer-specific prices
Web catalog for the B2B sector
Product wiki as a "reference book" for the sales department
Automatically generated product data sheets in corporate design
BMEcat catalogs with customer-specific prices
The BMEcat standard has established itself as the key to the clean and unambiguous transmission of catalog data in the B2B sector. Alterra PIM has long been supporting BMEcat. Outputting the catalog data flawlessly is one thing. However, when it comes to mapping different price structures in the catalog for different customers, many other systems hit the wall. Sepia's Alterra convinced the customer and Sepia set up the system for DWT so that different BMEcat catalogs with prices for individual customers / customer groups can be exported. The result for DWT is a very flexible and goal-oriented application of their PIM system.
Web catalog and product wiki
To present the product data held in the PIM system in an optimized way, an own web catalog application makes perfect sense (via Alterra WebCatalog + Alterra WebShop). The user can obtain detailed information on products and (shared) features. A "compare" function offers the possibility of filtering out the perfect match from similar products.
Additionally, a separate product data sheet (in pdf) can be generated for each product via the web catalog.

Due to the comprehensive product information contained in it, the web catalog is also used by the sales department as a product wiki and quotation tool. In addition to properties and prices, suitable accessories and spare parts can be researched via the Intranet and used in future for quotations via the CRM system.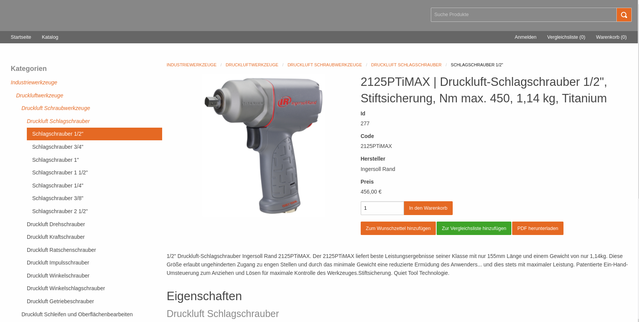 The web catalog of the Alterra PIM system: filter and compare products
Product data sheets in corporate design
DWT decided to use the format of a compact data sheet in HTML and PDF for the advertising of individual products. The format was set up as a template based on DWT's corporate design. Data sheets can now be automatically generated and saved or printed out for each individual product. They are used as an additional support for communication with the customer.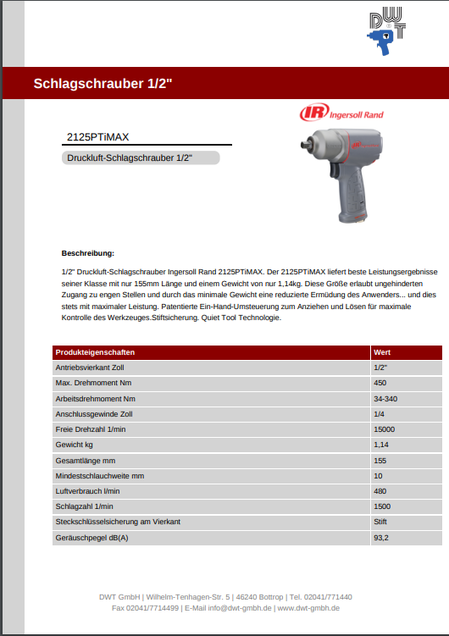 The automatically generated data sheet in corporate design.
Conclusion: Successful migration to the future-proof Alterra PIM
Sepia successfully implemented the migration and the extended system configuration within the planned project duration of three months. It turns out that the initial investment for complete, structured and redundancy-free data storage in the Alterra PIM system repeatedly pays off with every additional application option. In addition to effective output channels such as web catalog, BMEcat, product wiki or advertising material, DWT are planning that in future, other systems such as Customer Relationship Management (CRM) will also access the data in the PIM for further processing. With Alterra PIM as their solid product information foundation, DWT are well prepared for current and future challenges.