Product Configuration and Virtual Reality in Furniture Trade
In the furniture trade, 3D product configuration can be used very well on the exhibition area as a central sales tool for high-quality and complex products. In combination with the sample products shown in the shop, the customer gains a differentiated impression of the product's variability. In addition, a configurator can also play a prominent role in eCommerce within the framework of the omni-channel strategy of the furniture trade.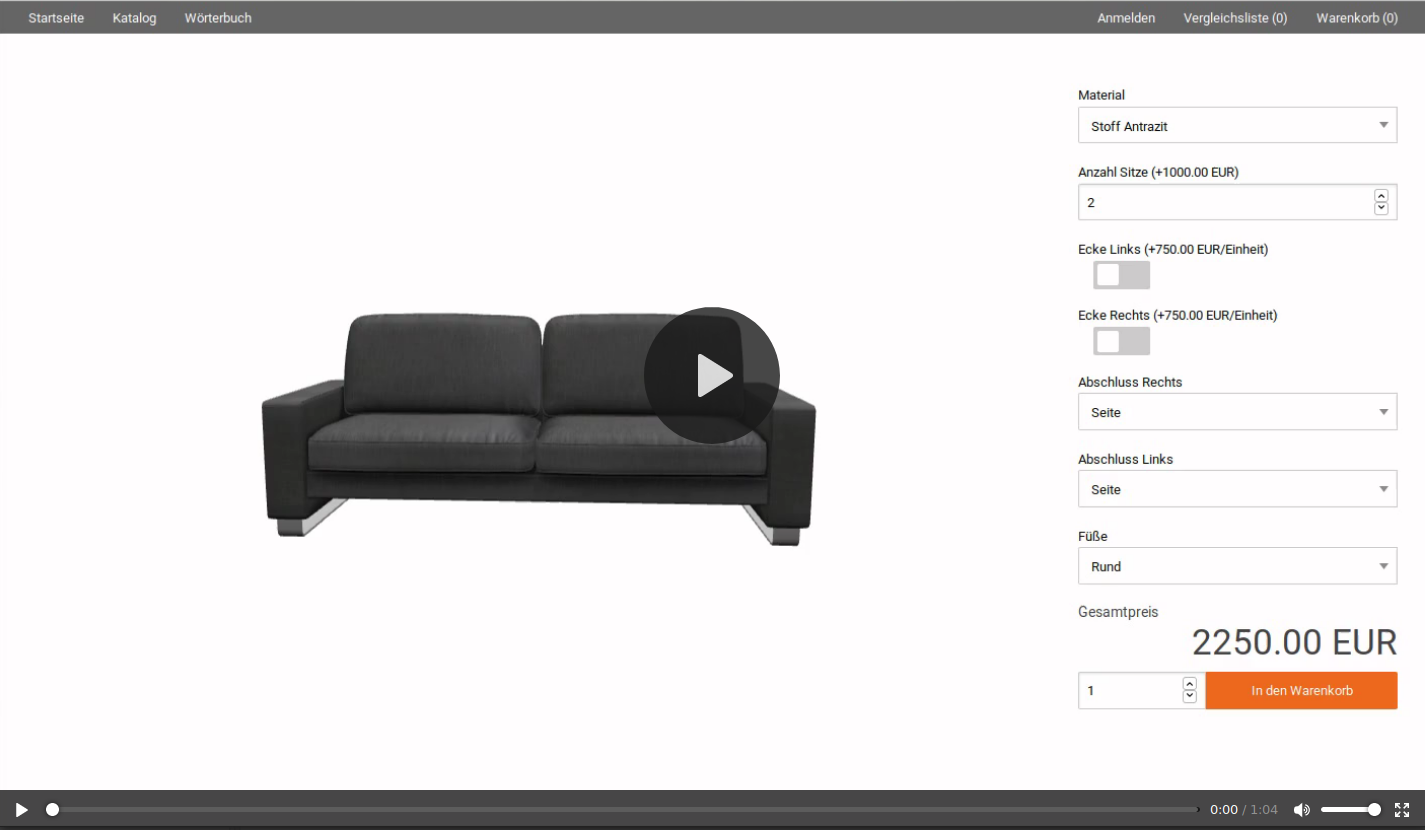 From the classic product folder to the 3D product configurator
In the furniture trade, product data management is easy to implement for most mass-produced products. Product photos can be quickly taken, and product texts written in a flash, provided the relevant samples and supplier information are available.
Texts with corresponding translations can be maintained easily using a functioning PIM system. Theoretically, the product data for this type of product can be created for the online sales process within minutes. So, for a relatively large product segment classic product information is the marketing medium of choice.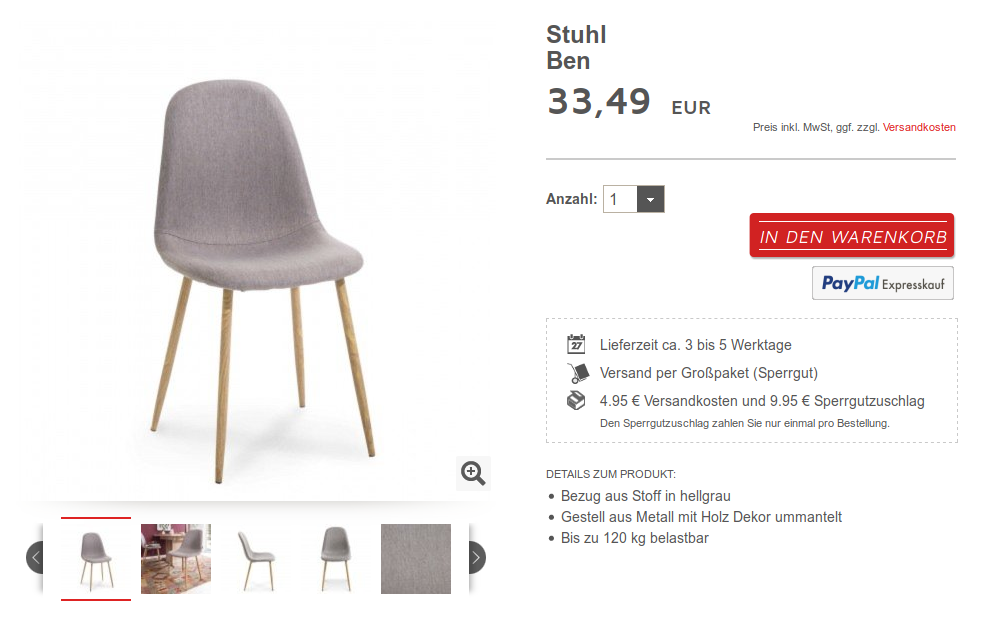 Products with few variants
The next stage consists of products for which there are different color or size variants. These are grouped together in most online shops and the user is offered a choice of color or size. The shop system filters and displays the appropriate article numbers and prices based on the selections made by the customer.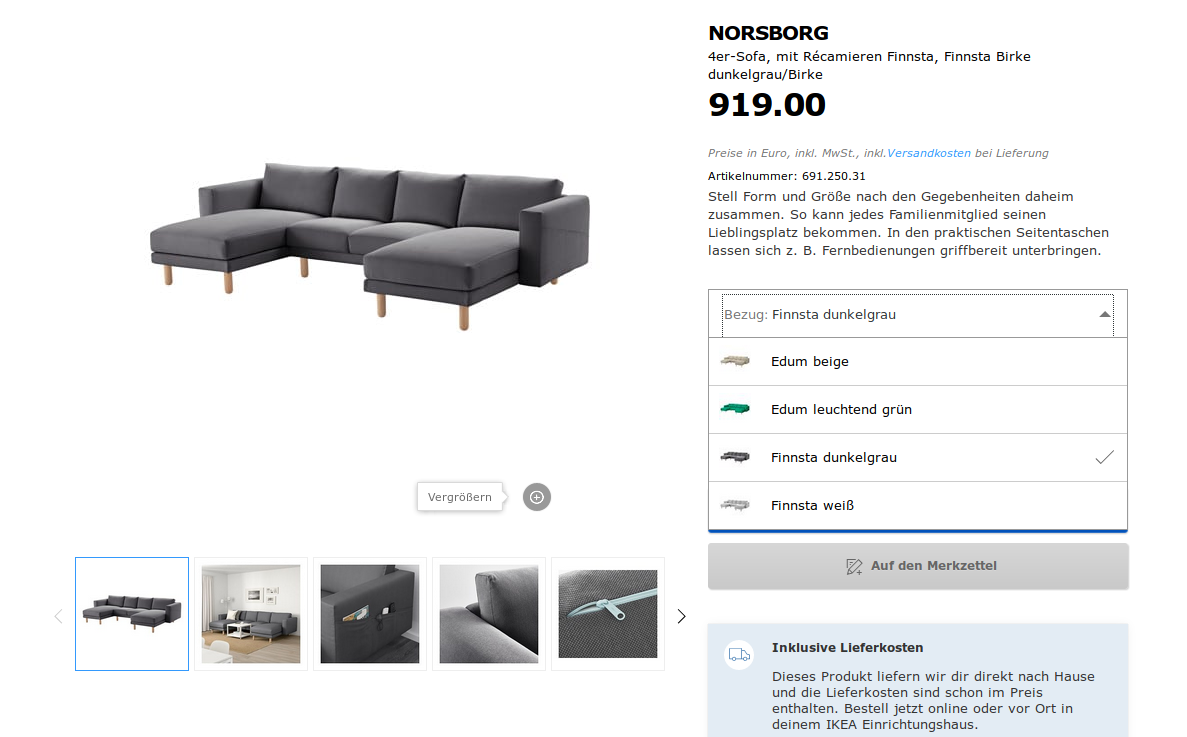 This simple filtering of variants of a product should not be confused with real "product configuration". A configuration product is usually an article that only exists virtually and only becomes an orderable good through configuration.
Usually only a few sample articles exist for configurable products, which should give the customer an approximate impression. Product configuration therefore makes sense where – due to the high number of variations of a product – it is not possible to provide photos of a sample article for each variation.
For this kind of products, one should rely on a mix of photos of sample configurations and purely virtual products shown in 2D or even better: in 3D!
Products with many variations cause problems with sampling
As the complexity of a product increases, so do the requirements for product data management. If we simply add 4 materials to our "sofa" example, the number of possible tradable items increases to 4 x 4 = 16.
Some manufacturers offer dozens of different fabrics and each of them in different colors. If different types of feet are added, e.g. 3 types of wood and 2 types of metal, we already arrive at 16 x 5 = 80 articles.
Maintaining 80 variants of a piece of furniture in the form of individual items is then associated with quite some effort. Above all, the question arises as to how many sample products must be produced for product marketing. How many of these individual items are sold often enough to justify individual sampling?
Pieces of furniture with many options are suitable objects for a 3D product configurator
Furniture retailers, especially in the middle and upper price segments, are operating with a high percentage of configurable and custom-made furniture that is made especially for the customer and has corresponding delivery times.
These complex home furnishings are sold today mainly by specially trained employees. Who is not familiar with the situation where proposals are "worked out" from an overview of elements and a price list, in which the customer's imagination is put to a hard test?
Example: "Lipari" sofa system
Let's take the highly configurable "Lipari" sofa system from Segmüller furniture workshops as an example. It consists of a multitude of combinable elements and variations of backrests and foot variants. Not to mention the abundance of fabrics, leather types and colors from which the customer can choose.
Lipari has so far only been distributed via classic sales documents. A PDF brochure explains the configuration options of the system – of course with all the limitations of this medium.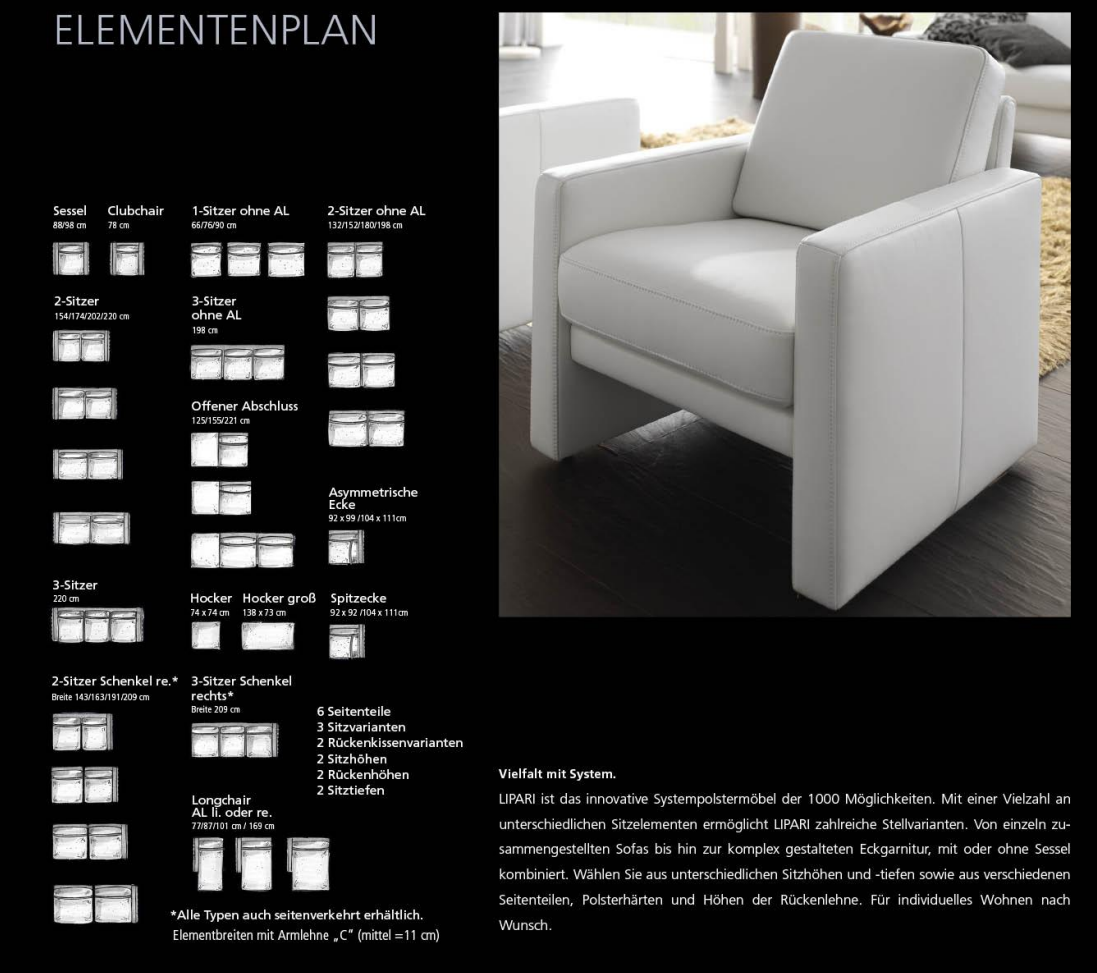 At this point, a modern solution such as the product configurator – possibly even in 3D – is virtually suggesting itself. The salesperson can respond to the customer's wishes much faster than before with such a system.
The customer sees directly which elements and materials are combined to form their individual piece of furniture. The risk of a "bad buy" is reduced and the buyer decision process is accelerated.
3D product configuration as a central sales tool
Product configuration in 3D can be used very well as a central sales tool on the sales floor, especially in combination with the sample products available there.
By using Virtual Reality, the salesperson no longer has to overtax the imagination of their customers. In addition, 3D configuration is also a recommended online sales aid in eCommerce.
It should be made sure that the same browser-based technology (preferably without special plug-ins or apps) is used both on the sales floor and in the online shop. The concept behind this requirement: "ease of maintenance".
Through the parallel use of a 3D configurator for furniture both online and on the sales floor, the ROPO effect in retail can be fully exploited. ROPO means: "research online, purchase offline".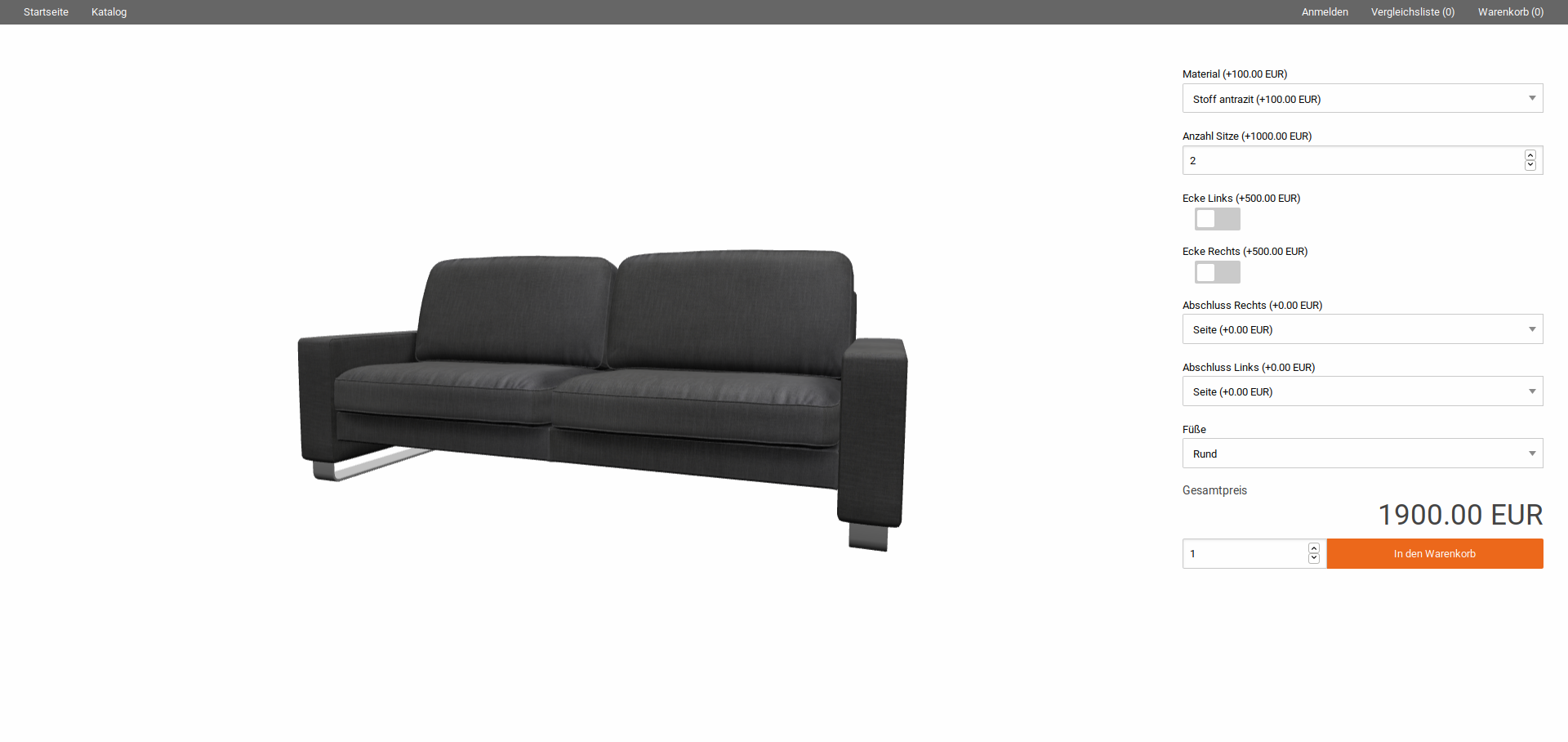 A 3D configurator assembles a product from individual combinable elements. In our example, the following elements are offered:
Seat elements 1-n narrow
Seat elements 1-n wide
Armrest narrow (close to floor, with clearance from floor)
Armrest medium (close to floor, with clearance from floor)
Armrest wide (close to floor, with clearance from floor)
Open end, left
Open end, right
Corner element, left
Corner element, right
Longchair, left
Longchair, right
Feet, skid style, narrow
Feet, skid style, wide
Feet, buckle style, chrome-plated
Feet, pedestal style, chrome-plated… etc.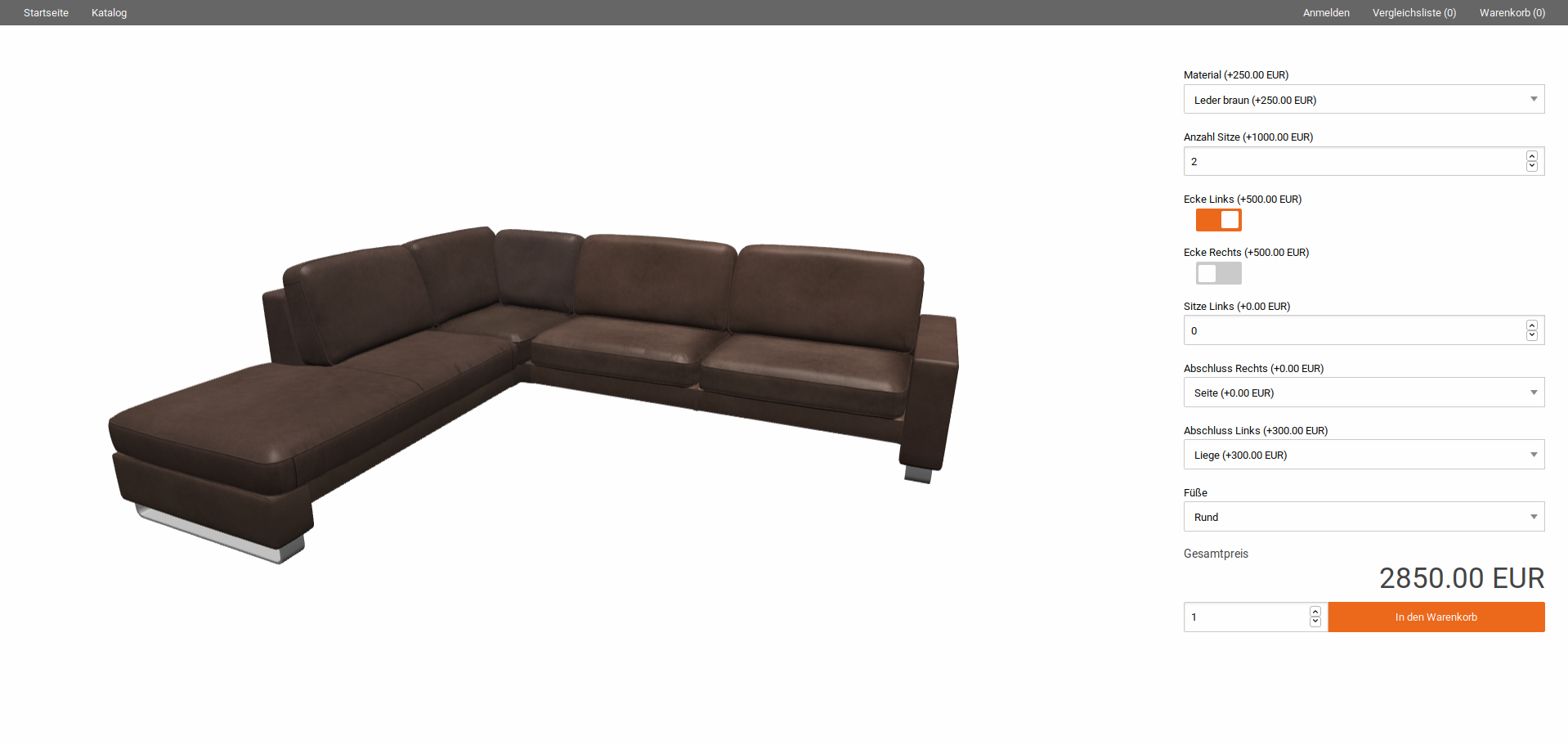 Alterra PIM with 3D features provides the solution
New widespread standard technologies such as WebGL (3D in browsers) and the fact that Alterra is a highly developed PIM system with variant configurator and 3D features make product configuration an interesting tool for practically all areas of the furniture trade.
Technologies available to everyone today can be used to create an example product configurator for the Lipari sofa system. Lipari is a complex, highly configurable furniture system. Compared to the sales documents available before, the 3D configurator can – without exaggeration – by called a revolution.
How do I get a 3D configurator for my furniture system?
At the beginning of a configuration project is the selection of products for which product configuration is possible and which should be treated with priority in this respect. Because implementing a configurator is not worthwhile for every product.
Then, the existing data material, i.e. master data, configuration specifications, design data and textures, are analyzed for each selected furniture system.
The advantage of Alterra PIM is that, in addition to configurable products, also very simple products can be stored on the same platform. Alterra PIM is therefore suitable for simple items, products with few variants (e.g. color variants) and for maximum configurable products using 3D configuration technology.
The 3D sales pack for import into Alterra PIM
In a next step, the 3D sales pack for the furniture system can be created. If available, design data from product development can be used for this step.
These basic data are optimized and supplemented before they are imported into Alterra PIM as a 3D Sales Pack. After that, the configuration options are activated by the product managers.
An example: The 3D-Sales-Pack contains the following options:
Armrest, narrow
Armrest, medium
Armrest, wide
However, because of a current trend "Armrest, narrow" should not be offered. This option of the 3D Sales Pack can then be disabled in Alterra PIM.
Setting rules for the interaction of options (constraints)
In the case of a piece of furniture, however, there are also elements that do not fit together and must be communicated to the configurator as "not combinable".
Example:
"Foot, bucket style, chrome" combines only with "Armrest, close to floor".
"Foot, skid style, wide" combines only with "Armrest wide, far from floor".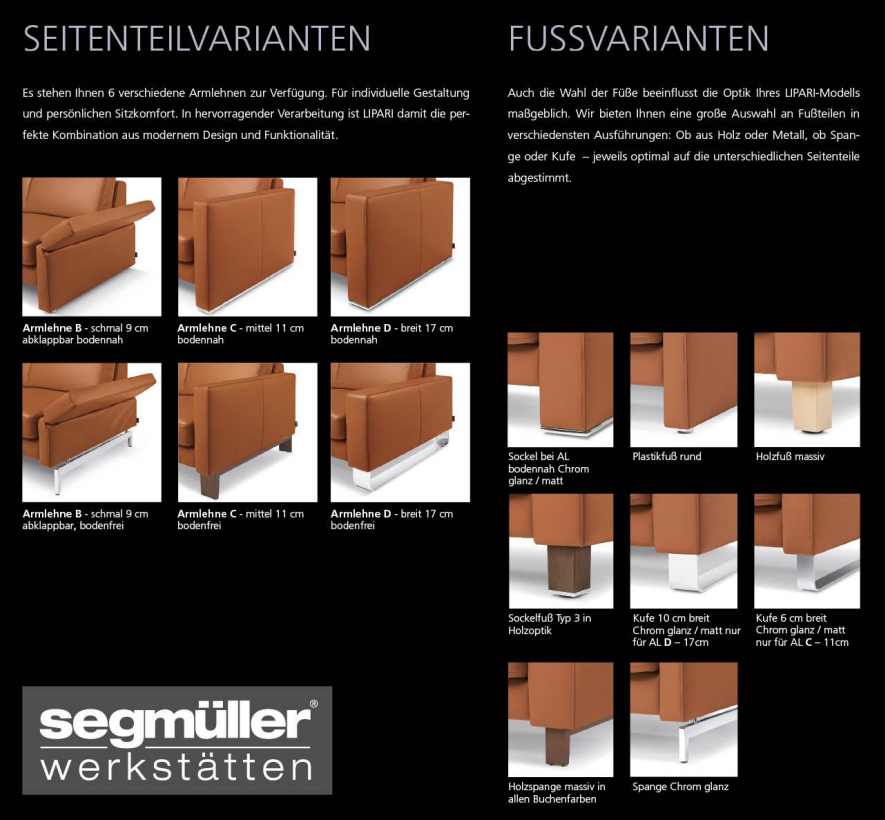 Then, the pricing of the elements and materials can begin and finally it has to be decided in which sales channels the configurator will be integrated via plugin. In our case, the configurator is automatically loaded from the Alterra webshop.
Integration of the configurator with ERP
Alterra PIM and the Alterra portal with the 3D product configurator can be easily integrated into a professional ERP environment. Let's create an example scenario for this.
Scenario: Product Configurator with Enterprise ERP Integration
Master data in the ERP system
Tenant
Supplier
Customer (online) PoS (on sales floor)
Customer / customer group discount
From configuration to delivery tracking:
Application start with identification of the customer / PoS (end point in ERP: customer or PoS master data record).
Seating furniture is configured (as shown). Optionally, a discount stored in D365 is considered (end point in ERP: discount for customer / customer group)
The product is added to the shopping cart.
Further products can be configured and added to the shopping cart.
The order BOMs of the selected products are transferred to D365 as a result of the configuration. (Endpoint in ERP: write order).
Further steps in ERP: payment process, order tracking.
Further measures to secure business success
An important factor for the success of a configurator on the sales floor is the training of the employees regarding the possibilities of the configurators.
In addition, the usual marketing measures should be used to familiarize customers with the 3D configuration for important furniture systems both online and at the PoS.
A product configured in 3D is a prime example of how Virtual Reality can be used at the PoS and in eCommerce.
Conclusion: Product Configuration and Virtual reality are the next "big thing" in the furniture trade.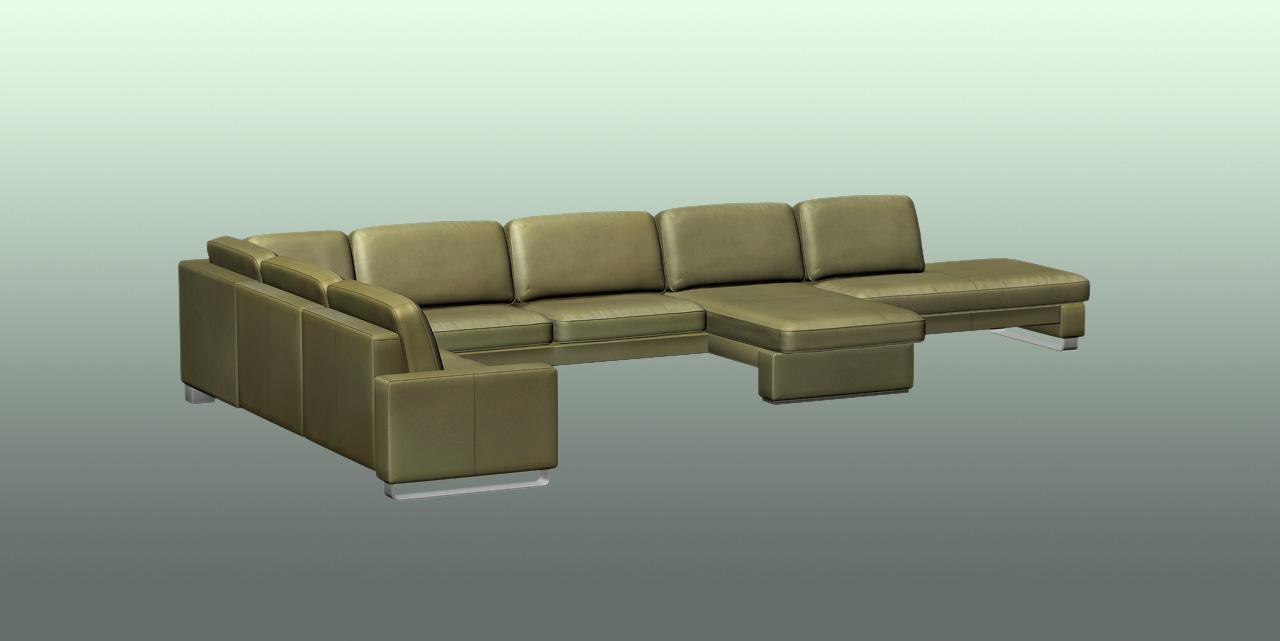 Anyone who draws a direct comparison between the digital technologies outlined here and the customary practices in the furniture trade to date can only come to one conclusion: Market participants who understand the new possibilities as an opportunity and quickly add them to their sales toolbox will be ahead of the field in the future.
Digitalization and virtualization in the furniture trade will have advantages for all players: Producers who can deliver faster according to precise specifications, more satisfied customers, and salespeople who ensure optimal customer loyalty based on reliable information.