Alterra PIM - Functions
Alterra PIM accepts the transfer of product data from legacy systems.
Alterra PIM is the platform for classifying and enhancing product data.
Alterra PIM generates customer-specific media at the push of a button.
Alterra PIM provides a SOAP interface and a REST API to connect to ERP, CRM, CMS and many other systems.
Configurable online workflows
User management with granular assignment of rights down to nano properties
Configuration of the entire application using XML
Additional modules: e-procurement, CMS, Shop, CD-ROM, CRM
SOA support, SOAP interfaces and REST API for all aspects of the software
Plug-ins for connecting OpenSource content management systems such as Typo3 or OpenCMS

Output media
Internet catalogues, product portals (Catalogue creation )
DVD/CD-Rom catalogue (Catalogue software )
Product catalogues (offset/digital printing)
XML catalogues, BMEcat
Interfaces: XML, CSV, ODBC, MySQL, MS Access, MS Excel, OpenOffice
Export formats: Adobe Indesign, QuarkXpress, PDF, Excel
Interfaces to leading ERP systems:
SAP
MicrosoftDynamics (NAVISON)
ORACLE (Peoplesoft, J.D. Edwards, Siebel CRM)
IBM AS400-based systems
INFOR
SAGE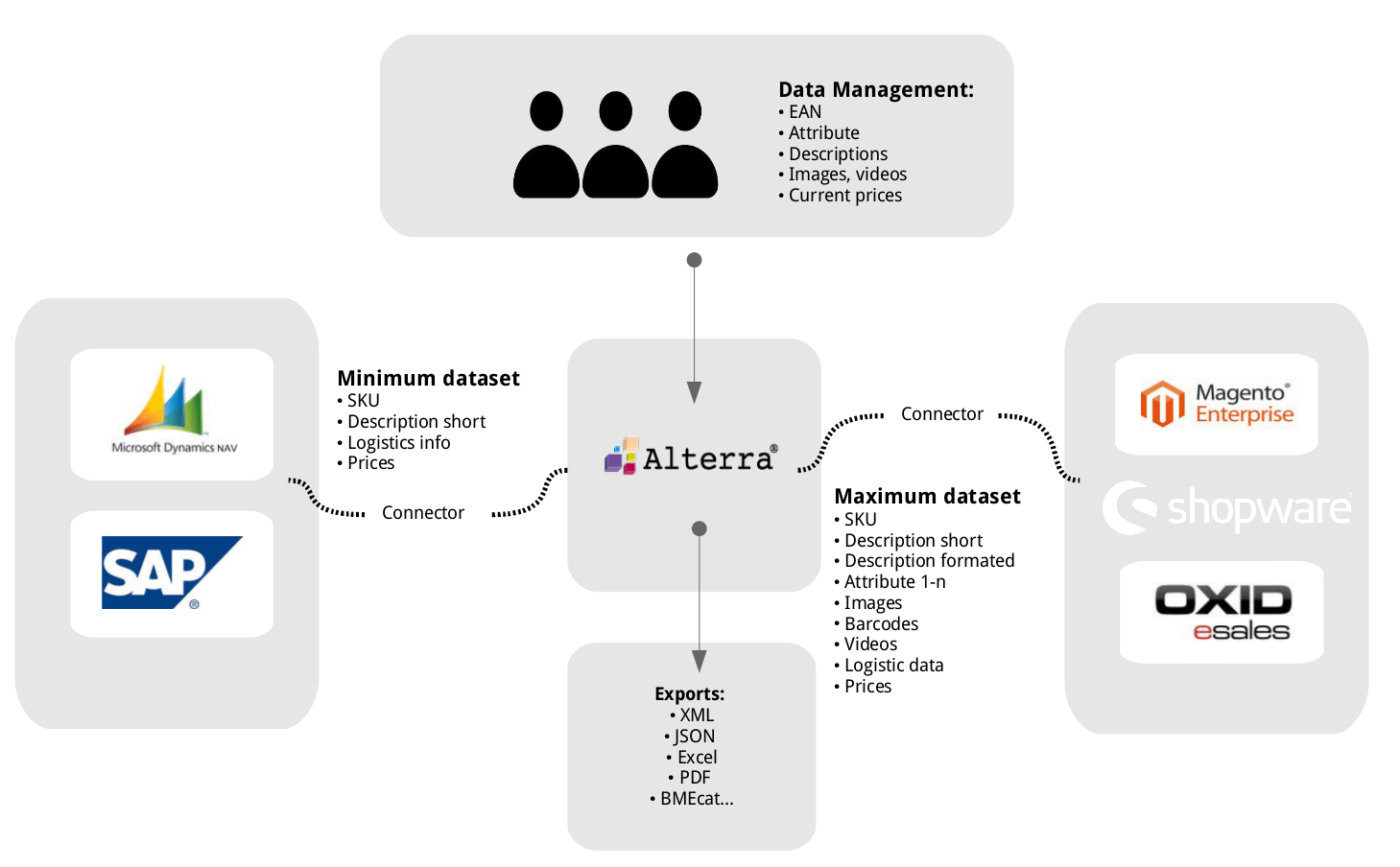 Alterra PIM supports classification systems
EClass
ETIM
Proficlass
UNSPSC
Target groups
Mid-sized businesses (5-150 users only PIM)
Large companies (from 250 users only PIM)
Small specialized companies with complex product data
Sectors / industries
Across all industries
Industry-specific
Industry
Commerce
Construction
Service Providers
Public administration
Utilities (water and energy)
Telecommunications
Types of products
Products with a low degree of complexity
Products with a high degree of complexity
Commodities
Services
System architecture
Web application
SOA support
Server operating system
Linux
Windows
Mac OS
Sun Solaris
HP UX
Client operating system
Windows
Android
Linux
Mac OS / iOS
Sun Solaris
HP UX
Supported browsers
Firefox
Chrome / Chromium
Internet Explorer
Opera
Safari
Supported databases
MySQL
Postgress
Oracle
MS SQL Server
DB2
Programming
Programming languages ​​used for servers: PHP, Java
Programming languages ​​used for clients: Javascript, XSL
API for additional programming available
Other system properties
Number of users per system: 500
System supports Unicode / UTF8
System has LDAP support
Integrated encrypted data transmission
Application functions
Maintenance of product properties
Linking of information units
Multilingual maintenance of product properties
Assignment of images
Assignment of texts
Definition of calculating fields
Setting of any attributes
Definition of data types for attributes
Definition of default values for attributes
Definition of units for attributes
Summarizing attributes in groups
Adding list boxes for attributes
Optional and mandatory fields
Definition of relationships between products
Plausibility checks
Simple search function
Advanced search function
Simple "search & replace" function
Advanced "search & replace" function
Classification of products through keywords
Support of multiple classification trees
Product preview configuration
Simple inheritance
Complex inheritance
History function

Product hierarchies
Definition of product trees
Products in product trees can be assigned
Managing multiple product trees
Support of parts BOMs
Definition of attribute groups for product trees

Classification
Integration of external classification systems (eClass, ETIM, Senior Class, UNSPC etc.)
Define and maintain own classification systems
Classification of a product according by multiple classifications
Value transfer/acceptance between classification systems
Multilingual classification systems
Multilingual classification of products
Definition of own data types for attributes

Image data and document management
Saving data on file server
Saving data on database system
Classification of image data
Any image data formats are supported
Automated image data conversion
Image cropping
Maintenance of different image versions
Interface for external image databases available
Search for image data, data files
Integrated document management
Assignment of documents to products
Editing of documents
Save versions of documents
Management of versions/variants
Search function for documents

Text data
Unicode support
Formatting
Paragraph style sheets
Character style sheets
Preview for formatting
Zoom feature for easier editing
Colour highlighting of changes
Simultaneous display of multiple languages
Standard dictionaries included
Customer-specific dictionaries possible

Translations (within PIM)
Online translation
Offline translation
Support of automated translations
Automatic conversion to different measurement systems
Interfaces to translation systems
Provision of elements to be translated (untranslated elements)

Workflows
Status of product data is tracked, can be changed
Status of translations is tracked, can be changed
Status of documents is tracked, can be changed
Status of catalogues is tracked, can be changed
To-do lists with dates are tracked, can be changed

Communication with other applications
Export functions
Export of the product taxonomy stored in the system
Export of product data/hierarchies as XML
Export of product data/hierarchies as a CSV (Excel)
Configuration of individual exports
Individual export can be saved
Output for print and digital catalogues

Export formats
BMECat
xCBL
cXML
CIF
ECOS
OCF
Rosetta
eCX
Datanorm
EDIFACT

Connection of external applications (general)
Connection via CSV flat files
Connection via XML import/export
Connection via SOAP interface
Connection via REST API
Connection via proprietary native API
Reading and writing by external application possible
Integration in orchestration/workflow control applications possible (SOA)

Connection to ERP systems
SAP
ORACLE (Peoplesoft, JD Edwards)
Infor Global Solutions (amongst others also Baan)
Microsoft Dynamics (Navision, Axapta)
SAGE

Interfaces to translation memory systems (translation software)
Connection via Translation Memory eXchange (TMX)
Connection via .CSV, ODBC, etc.
Connection via SOAP interfaces
Connection via REST API

Native connection of translation memory systems (translation software)
across
Ambassador
Catalyst
Déjà Vu
Logoport
MetaTexis
MultiTrans
OmegaT
Open Language Tools
Passolo
SDLX
Trados
Tr-AID
TRANSIT
WordFast
XLIFF Translation Editor
XTM (XML Translation Memory)

DTP: printout of product data
Connection and integration of print editions
Formatting of print editions, internal
Formatting of print editions, external
Inherited product information is printed
Rules for automatic product composition
Rules for the composition of information
Print output configuration can be saved

DTP programs
Quark Xpress
Adobe Indesign
Adobe Framemaker
DTP output management
Definition of templates in the database
Definition of templates in the DTP program
Definition of break rules
Repeating groups
Growing groups
Graphical definition of templates
Decentralised creation of templates possible
Preview function for sample record
Style management
Integration of XML format templates
Grid layouts
List layouts with breaks
Assigning templates for left/right side (e.g. in catalogues)
Automatic page generation
Subsequent update of information in the DTP program
Write-back of information from the DTP program
Write-back of processed products as templates
Tables in the DTP program
Cross tabs possible
Change management in the DTP plug-in
Go to the Translation Memory Module...