Case study Karcher Design: organizing variant-rich door fittings with PIM
Who is Karcher Design?
Karcher GmbH is a medium-sized manufacturer of design fittings such as door handles, window handles, protective fittings and push handles. Karcher consistently places the most fashionable design and refined function with the highest quality at the focus of its product development – which aligns perfectly with the long-standing trends in building equipment towards better quality and better design.
A decisive factor of Karcher's success is that the company has long pursued the strategy of providing partners and end customers with all relevant information for sales, purchase, installation and maintenance of Karcher products. The combination of the quality of the products, the ability to deliver and the best possible data quality ensure the steady growth of the business.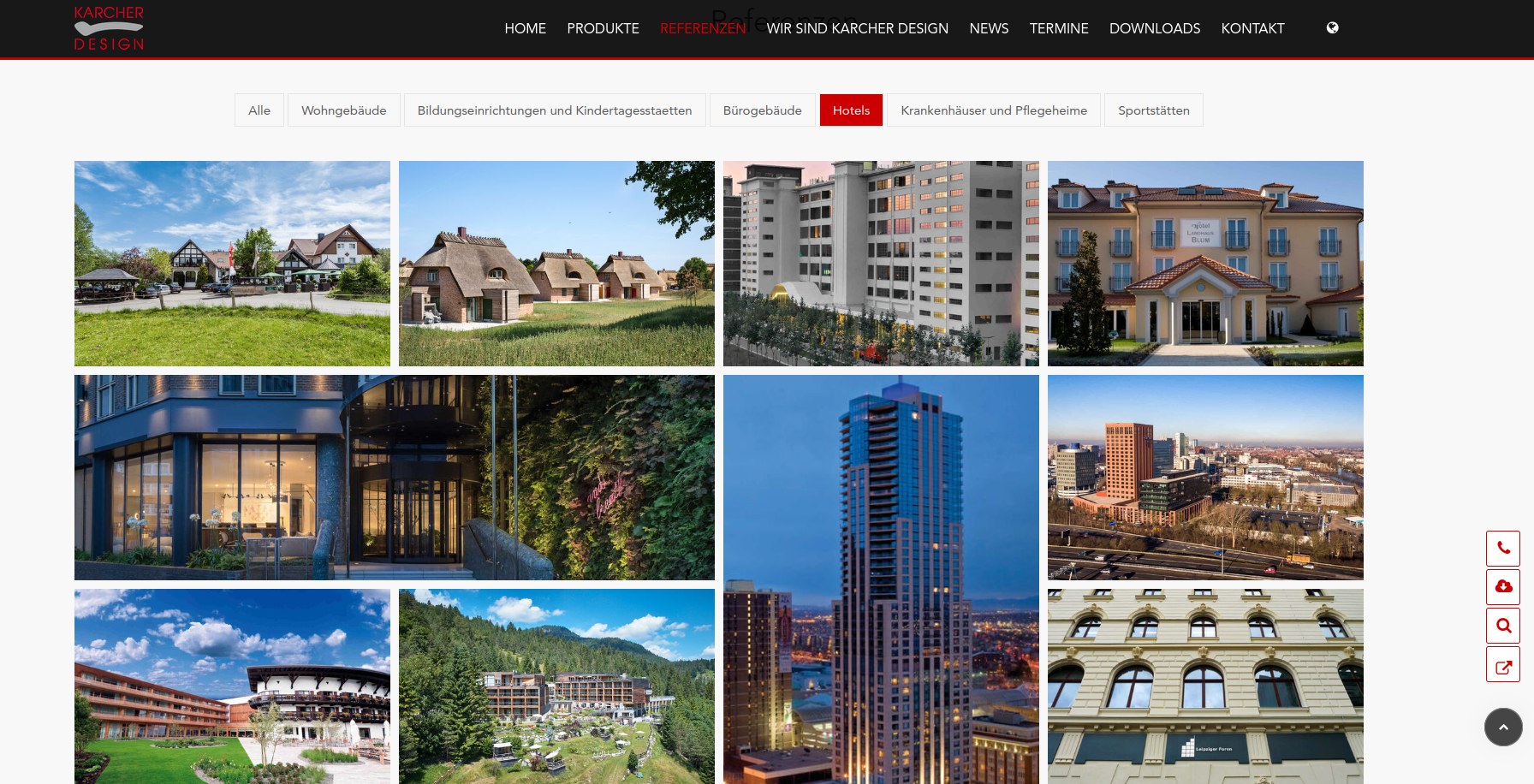 Why did they opt for Sepia Alterra::PIM?
The product range distributed by Karcher is characterized, on the one hand, by its enormous variety and, on the other hand, by the possibility to combine individual elements. Therefore, when maintaining products in the new PIM system, one should not maintain products individually, but create components that can be combined with each other depending on the product. This modular system for data management should keep the products completely redundancy-free and thus reduce the maintenance effort.
When comparing PIM systems, it quickly became apparent that only a few providers have designed their software in such a way that it easily allows for the granular decomposition of products into their components and a maintenance based on these smallest logical units of a product. Karcher was therefore happy when they came across Alterra::PIM, a system that exactly met these objectives in terms of structure and function – and comes combined with highly knowledgeable implementation consulting.
Synchronous product data in ERP and PIM
A PIM system like Alterra::PIM can be easily connected to any ERP system. One advantage is that the complex product structure is completely relocated to Alterra::PIM and the ERP system primarily performs functions for which an ERP system is originally intended – namely for enterprise resource planning, i.e. procuring, storing, processing and selling resources, and not for representing complex product interrelationships in marketing, sales and eCommerce.
Output media under control
For the successful distribution of their products, Karcher GmbH has to operate several output media that present the products from different angles and with different objectives in mind. For this purpose, it is helpful that products are maintained in individual parts in such a way that parts can be exchanged or products completely reassembled, if necessary. For the presentation of their products, Karcher in particular uses the following media:
BMEcat exports, individually for dealers
Price lists as PDF and in printed form
Web pages with display of all available products
Tender texts
eCommerce functions
Product-Configurator for the door handle "ER90"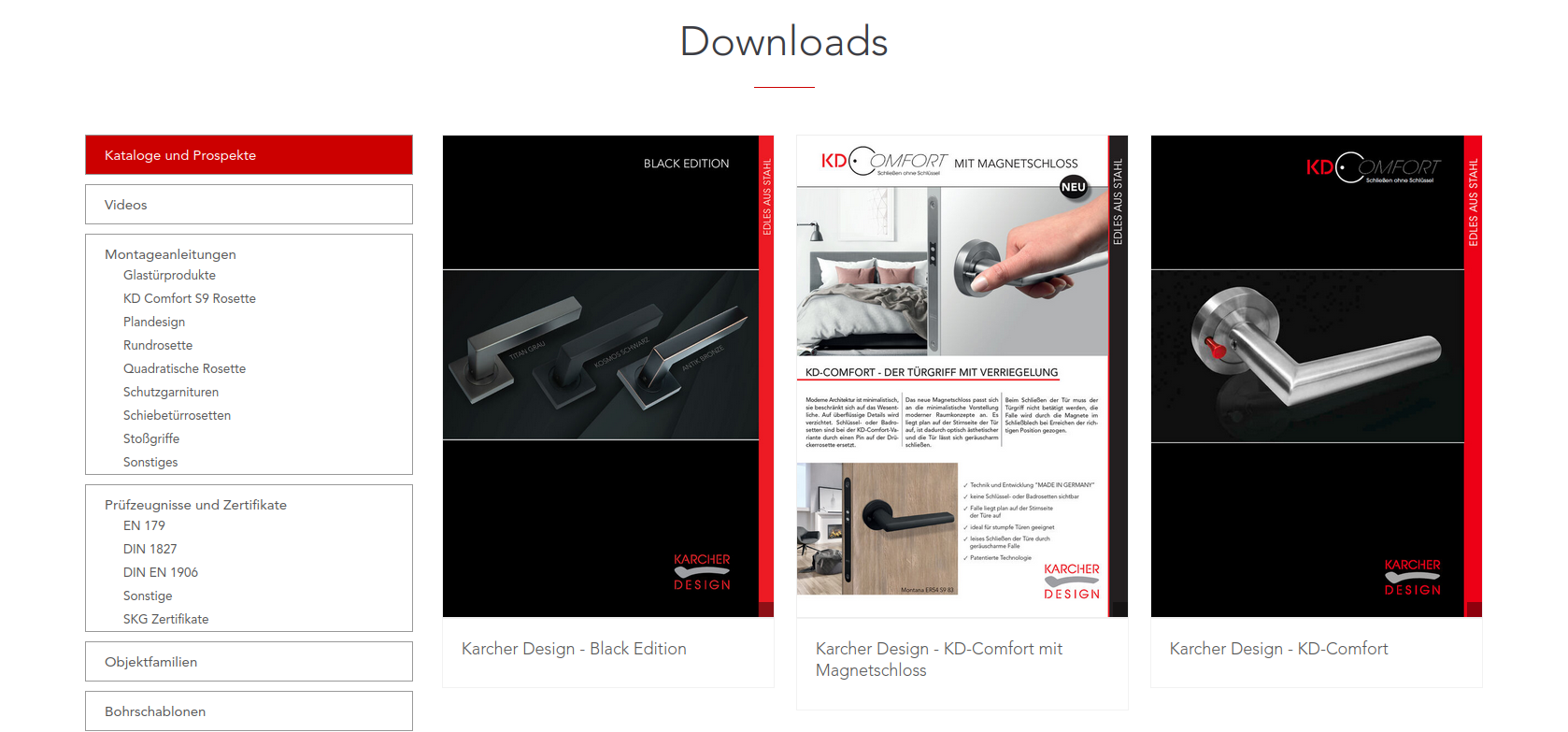 A database and a comprehensive set of rules for data output
If you decide to keep your product information as redundancy-free as possible, you have to break products down into reusable information modules. This can mean breaking down a product into its individual technical parts. However, it can also be that parts of products are interchangeable from a marketing point of view, e.g. because they share the same feature is involved or an aspect of use is always described in the same way.
In order to implement such product maintenance, it is advisable to plan very astutely and, if necessary, to obtain expertise from outside. Sepia employs professional teams to provide advice and assistance to customers at this point. Using a set of rules that can be stored in Alterra::PIM, it is possible to define conditions for the display of products. This ranges from simple variant creation to extensive combinations of partial products.
Isabel Karcher (Managing Director of Karcher GmbH): "With the help of Alterra Pim software, we have optimized and digitized the basic marketing processes of our company. Today, we find it hard to imagine product management without Alterra-Pim."
Example: Model "KOS"
Let's look at the data maintenance for the Karcher's model "KOS". A configuration envelope is created for the product in the PIM system. As information stored here, it is sufficient to give the model a unique name or number. What data is output in connection with the model depends on which "components" are assigned to this configuration envelope. In our example, the product looks like this:
Model: KOS, 3-piece, round
Component 1: KOS handle

Properties, files, translations

Component 2: Door handle rosette, fire protection

Properties, files, translations

Component 3: Profile cylinder rosette, fire protection

Properties, files, translations

Component 4: Screws
Set of rules for configuration and output to model: KOS
Each of these components has its own set of product characteristics, including technical data and marketing statements, as well as image data, technical drawings, documents, and 3D data.
The external representation for the entire model "KOS" can now be automatically merged using the data from the individual components. In addition, a set of rules can be stored in order to generate specific model variations or to tailor the composition of the partial information precisely to the output medium.
Last but not least, this basic data can be used for the operation of a product configurator (CPQ = Configure Price Quote). The product configuration can be used by the own sales department or on the website by potential customers.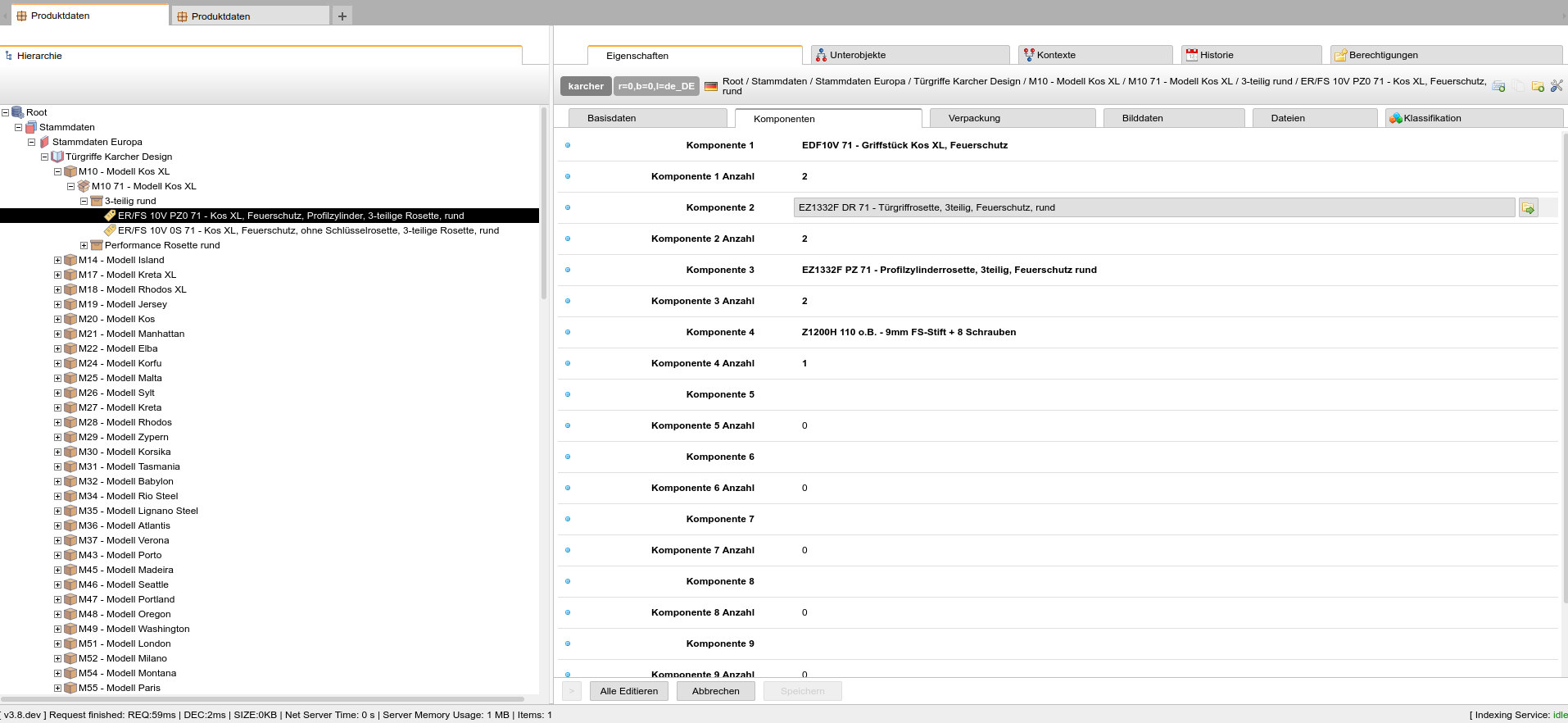 Products on the Web: the Alterra::Sales Portal is 100% cloud-ready
An optional add-on to the Alterra software suite is the Alterra::SalesPortal, which publishes the products stored in PIM on the company's website. The Alterra::SalesPortal is 100% cloud-ready and can be rolled out in Azure or AWS. A particularly advantageous function of the SalesPortal is the integrated faceted search via ElasticSearch, on the basis of which both targeted products can be found and precisely configured.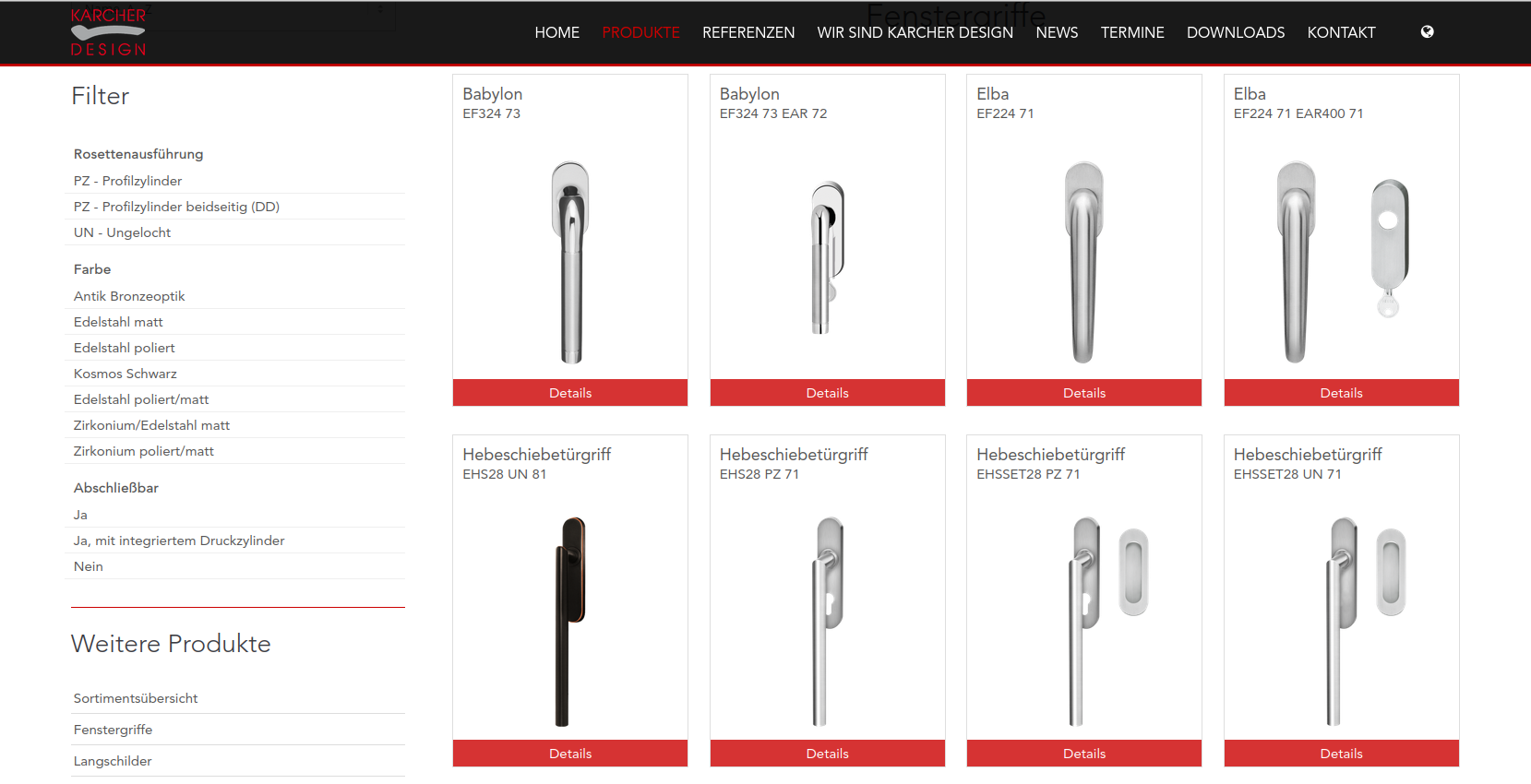 Performance of the product filter of the Alterra::SalesPortal
To get an impression of the performance of the product filter, here are the actual measured values for the product search in the SalesPortal:
Search for over 10 million objects (products)
Attributes (product properties) per product: 100
Search result: <= 0.25 seconds.
The hardware requirements (virtualized) for this are simple:
HD: SSD
RAM: 24 GB
CPU: 4x vCore AMD with 3GHz each
The product filter is included "out of the box" with an easily customizable web layout in the SalesPortal, but it can also be integrated into any system (CMS, WebShops – e.g. Shopify). These interfaces are available for integration into other systems: REST, ODATA, GraphQL. In addition, documents generated by the system can be delivered directly via an Azure Service Bus. This ensures full integration with MS Dynamics 365.
Conclusion
Alterra::PIM, the pertaining possible product configuration, and Alterra::SalesCloud opened up completely new possibilities for Karcher GmbH to process product information in a rational way. For a medium-sized company that does not have unlimited human resources, a software like Alterra::PIM that enables such a high degree of automation in media production is a real blessing. And the direct use of data on the web without prior manual intervention, without copy & paste efforts, also brings enormous advantages for sales and marketing. With the Alterra Software Suite, Karcher Design is well prepared for the "cloud age".
Whitepaper
3D-Configurator for Furniture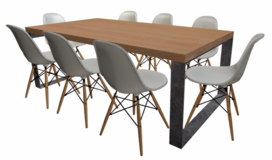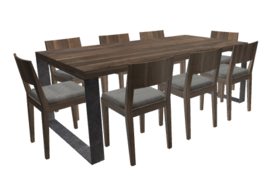 Example: dining table. Design, width, depth, material and chairs are configurable. Dynamic price calculation.
3D Locker Configurator based on Alterra::PCM